Times are changing...and so are students:
Back 5, 10, even 15 years ago, when students pulled out their phones in class, the teacher
would make it seem like the sky was falling. The phone would be confiscated and the student
would get in trouble, not to mention the fact that the child was likely to be in a negative mood for
the remainder of the session.
And why did schools and camps and classes think this was the right way to do things? Because
we genuinely believed that those little devices that were destined to become so central to our
lives could not help kids on their learning journey, but would instead distract them from it and
stunt their educational growth.
Boy, were we wrong.
Smartphones have come a long way since then, and now they're more equipped than ever to
not only boost your child's learning experience, but actively help them remain focused on their
learning. Instead of resisting technology as a negative force in the sphere of education, many
have begun to embrace digital tools for the classroom, with wonderful results.

Online student engagement tools and strategies have taken the form of online games and
learning apps over the past few years, and we're excited to share some of our favourites with
you here in this blog! Read on to see which digital tools for the classroom are our favourites to
help boost student engagement in a language classroom!
The Best Interactive Tools for the Classroom:
This is a game-based learning platform whose goal is to make learning 'awesome,' and they
seem to be doing a bang-up job of it so far! Kahoot allows the user to create and disseminate
fun learning games, quizzes, and questionnaires to the class, which they call 'kahoots'. This can
be played live on a big screen or on your mobile device.

Kahoot uses a very colourful and fun layout for the platform as well, which combines with the
actual games to create a learning experience that's fun for the students! Kahoot is available all
over the world and is used by students, teachers, and even professionals. You can use it for any
and all school subjects, and it works in basically every language imaginable.
Google just does everything, don't they? This digital classroom tool is basically a digital
whiteboard that allows for remote or in-person collaboration on a shared space. It allows
teachers to be more dynamic with their lessons, engage students in more collaborative tasks,
and is a great brainstorm tool for students to use in those group projects
Another of our favourite engagement strategies for students is Mentimeter, an online polling tool
originating in Sweden that's already used by many a classroom. Mentimeter allows for students
to become more involved and engaged in a lesson thanks to Mentimeter's many functions. You
can ask all sorts of questions on this interactive element from multiple choice to open-ended.
Mentimeter is also a great way to break the ice, indicate opinion, and start or liven up a debate!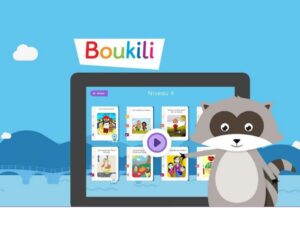 Here we have an awesome tool specifically designed for student engagement in the language
classroom. This one was created to help keep students learning French engaged in their tasks.
For students aged 4 and over, Boukili offers an immersive and interactive platform for students
to boost their French reading skills. Choose from a library of over 120 illustrated books, all
helpfully organised by reading level and theme.

Kids are offered quizzes to help with reading comprehension, and their adorable (and
customizable) avatar also encourages them while they're using the app. A theme of world travel
is baked right in, as children can continuously unlock countries to improve their reading and
learn a little bit about the world around them!
Padlet is basically an online notice board where students and teachers can post notes that can
contain links, videos, images, and document files. Teachers can create multiple walls and make
them private or public depending on what they're using them for, such as teacher collaboration
in a subject department. Teachers can edit a wall, moderate posts, and bring everything they
need together for a single class into one management screen.
The sixth and final of our favourite digital tools for the classroom is Class Dojo, which is a great
way to gamify class and make learning more fun. Kids create their own customizable avatars
and gain or lose points based on previously agreed upon metrics between the teacher and their
class, such as how they behave in the class. Teachers can also use Class Dojo to take class
attendance!
How digital engagement tools help students:
Working with the classroom tools mentioned above has a lot of benefits, for both the students and the teachers!
Introducing digital tools into the classroom can foster an environment of innovation, and help students to become more comfortable expanding their skills even outside the classroom. 
We hope our list can help you create a fun and dynamic classroom for your students! If you love these tools, or if you have any other suggestions, feel free to leave them in the comments below!