KINDER FRENCH IMMERSION CAMP
REGISTER NOW FOR IN-PERSON CAMPS 2021!
Our Kinder Program for ages 4 to 5 is designed to help prepare campers who are entering a French program and to reinforce previously acquired basic French skills.
Our programs:
help ensure a smooth transition to school;
prepare them to enter a French program with confidence and enthusiasm and;
develop their verbal skills.
Vocabulary is formally taught in the morning, then reinforced throughout the day with activities such as sports, arts and crafts, book club, cooperation games, and songs.
Campers in this program will be introduced to basic French skills they will need in September to succeed in French Immersion.
Each week follows a different theme and builds on previous weeks, so you can sign up for consecutive sessions of fun in French this summer!
No French experience required.
Plus:
Each week, campers will receive a Tournesol workbook with a different theme!
The workbook also includes the words to the songs that they will learn and will be sent home with the campers at the end of the French camp. They will be able to continue "working" in their workbook for the rest of the summer to reinforce their learning.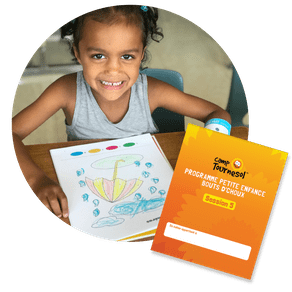 French Summer Day Camp
Includes a free CampT t-shirt

Extended care available from 8am - 5:30pm ($25/per week per hour)

Optional pizza lunch on Friday ($3.50/slice, $5/two slices)

Multiple week discount (4% off when registering for 3+ weeks at a time)
We have built a winning schedule for the week to ensure that children are engaged in positive and rewarding activities while exchanging in French and socializing with their peers in a safe environment.
Children will be placed in groups of a maximum of 10 people including the caring counselor that will spend the week with them. 

Each group will be assigned their own physical space which will act as a bubble for them. Members of other groups will not be permitted to interact or enter that "bubble".

When outdoor space is available, each group will take turns spending time outside.

The schedule ensures that children will have "mask-on" activities where social distancing is not possible, alternating with "mask-off" activities where they can safely play and engage in our activities while six feet apart.

During some individual time, children will have their own kit for activities such as bracelet making, worksheets, and reading materials. You will receive a list of items that we will provide and items that you must send with your child.
There will be no field trips during the week.
We will adhere strictly to the safety guidelines issued by the Ministry of Ontario and will require our hosts to do so as well. Click here for more information.
What if there is an outbreak or mandated lockdown? In the case that we must close our in-person camps, we will automatically transfer all campers to our virtual platform, keeping them in the same groups and with the same counselor. Activities will be similar but modified to fit the virtual format. Read more about our virtual camps here. You may also choose to recieve a refund for the remaining days of camp that will be missed.
Please note that these protocols are in accordance with the latest guidelines from Public Health. As new updates to the guidelines become available, we will update our guidelines and protocols to match the up to date recommendations of the Public Health Guidelines.
"Our daughter was very happy. She had amazing time. She made new friends and this week was very active and educational. We would recommend it to our friends. Thank you CAMP TOURNESOL! See you next year!"
"My daughter's experience exceeded our expectations. It was so wonderful to hear her speak to us in french. It has given her the confidence to start french immersion in September."
"Ava enjoyed her camp tremendously. She came home full of stories, loved her French morning and became a much more confident speaker. We can't wait for next summer!"